No Worries
Generally, I aim to keep the electioneering out of my articles here at Jared Dillian Money.
But today, I am asking you for something…
I have a book coming out on January 23, 2024, and I really want you to preorder it—today.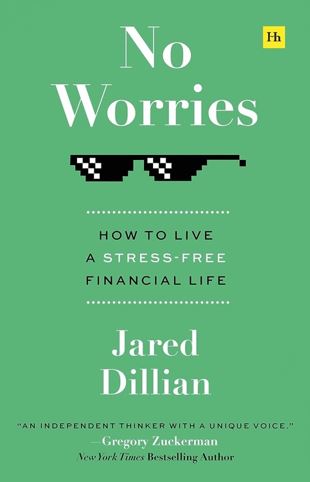 Most of the existing personal finance literature out there is focused on getting you the most money and, therefore, doing things that increase your stress. It causes you to think about money all the time. You don't want to think about money all the time, trust me. We should all aspire to get to the point where we don't think about it at all.
So, the ideas that I developed while sitting in front of a microphone for two hours a night while hosting a radio show on personal finance from 2019‒2021 turned into a book—the first book of its kind, with an emphasis on minimizing one's financial stress.
I wrote about two-thirds of it over Christmas break in 2021, sitting on the couch, and then I finished the rest of it at a RealVision event in the Cayman Islands last year. It was the easiest book I have ever written because I've spent so much time thinking and talking about these issues.
It's called NO WORRIES: How to Live a Stress-Free Financial Life. And I would like you to preorder a copy immediately.
A message from Jared Dillian Money: Most personal finance literature is focused on getting people the most money, and therefore doing things that increase their stress. It causes them to think about money all the time. People definitely don't want to be thinking about money all the time... instead they should aspire to not think about it at all.
On January 23, 2024, Jared Dillian's new book NO WORRIES: How to Live a Stress-Free Financial Life will be being released, but is available for pre-order now at the link below. "You'll read it in one sitting and it will change your life forever." —Jared Dillian.
What's Inside
The book starts off with a treatment of attitudes toward money because it is important to get the mindset right first. Here, we learn that the two sources of stress—the only two sources of stress—are debt and risk.
After more on debt and risk, I get into the weeds on credit cards, car loans, student loans, and mortgages.
Regarding risk, there is a chapter about the philosophy of risk, there is a chapter about investing basics, and then there is a chapter on the solution: the Awesome Portfolio.
Then I tie it all together.
In short, you don't have to live like this. We don't have to live like this. You can structure your affairs in such a way that you never have to feel financial stress. You can feel other kinds of stress instead. But the financial stress is avoidable (and completely unnecessary).
How to Order
I have to tell you, this book has a realistic shot at ending up as a New York Times bestseller. Let's make it happen.
So, here is the link to order.
You'll see there are several buttons for different book retailers. It's good to spread it around a little bit, but honestly, order from wherever is most convenient for you. It's $27, but the price will probably go down closer to the release date. A nice hardcover for your shelf.
If every Jared Dillian Money reader bought a copy—holy cats. Here's the kicker: This book is a book for your kids. I've had several people read an early version of the manuscript. They all say the same thing: "I wish I had read this book in college!"
I'd say this book is suitable for people 16 and up. Unlike my other books, there's no swearing, so you don't have to worry about that. If your kids read this book, they will be set for life. It is the best possible gift.
So, pick one up for yourself and a few for your kids. You will have No Worries.
It's a powerful idea, the idea that you can minimize your financial stress by doing a few simple things. You don't have to turn your life upside down. You just have to change the way you think about money.
Do me a solid. Get the book. You'll read it in one sitting, and it will change your life forever. Order here.


Jared Dillian, MFA